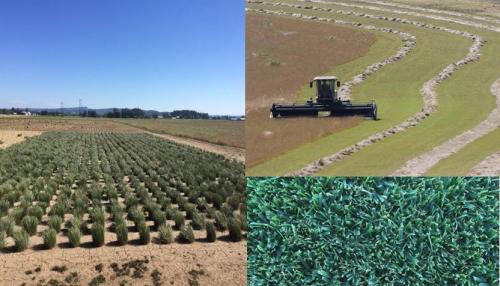 Seeding lawns and golf courses is a big investment of time, energy and resources.  The last thing you have time for is seed that doesn't germinate or turf that doesn't live up to your expectations.  The LESCO seed team understands your time is valuable and seeks to maximize the performance of your turf renovation.  That is why SiteOne, the makers of LESCO seed, work directly with seed breeders and growers to uphold one of the industry's strictest seed standards and ensure the desired, superior turf traits are expressed.
Targeted Traits:
Disease resistance
Drought tolerance
High density
Increased rhizome expression for self-repair
Reduced growth habit for lower maintenance
Refined leaf structure
Salt Tolerance
Unique genetic color
Wear tolerance
In addition to working directly with growers, the LESCO seed team submits seed varieties to several reputable outside performance trials.  The purpose of this step is to compare LESCO turf trait expression with competing varieties.  A high trial rating indicates a top performing seed under specific environmental conditions. 
Outside Turf Trials Ranking LESCO Seed:
National Turfgrass Evaluation Program (NTEP)
University of Arizona
University of Massachusetts Trials
North Carolina State University
After trials, LESCO seed is given to quality growers to plant for seed production.  During production processing seed is cleaned and tested for viability and purity in alignment with the company's standards.  These requirements are often more strict than even Oregon Blue Tag standards, an exacting industry benchmark.  Read on for a comparison of Oregon Blue Tag standards versus LESCO's standard requirements.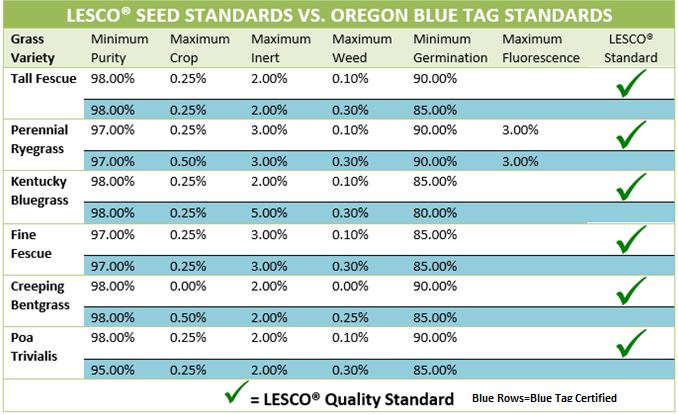 Contact a LESCO representative today to learn more about current seed variety availability and Early Order Program options.