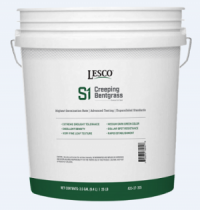 SiteOne®, exclusive supplier of the LESCO® product line, unveiled S1 Creeping Bentgrass at the 2020 Golf Industry Show in Orlando, FL.  S1 is an improved creeping grass cultivar proven to suppress Poa annua. Its high germination rate and aggressive, drought-resistant characteristics make it an ideal option for greens, tees and fairways.
With some of the most rigorous seed testing requirements, LESCO® products have set the bar for golf and turf industry professionals for decades.   SiteOne launches the S1 product with many top testing titles already under its belt including:
   •    Rated #1 in 2014 NTEP trials for bentrgrass cultivars grown on a green for the following categories:
Drought stress 
Early spring green up
•    2017 NTEP testing confirms S1 is disease resistant against the following:
 Dollar spot – Rated #1 
Anthracnose – Rated #1
Brown patch – Rated in Top tier
• Rated #1 in 2018 NTEP trials for:
Mean Turfgrass Quality
Summer Density
Also rated in the Top Tier for Poa Annua Suppression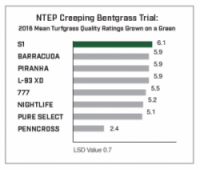 S1 tested under the experimental designation of DLFPS-AP/3058 and AP23 at Iowa State University, Rutgers University and National Turfgrass Evaluation Program (NTEP). 
The media team caught up with Brian Rowan, SiteOne VP of Category Management at the Golf Industry Show to hear what makes S1 so significant.  
In addition to superior turf seed traits, LESCO partners directly with growers to ensure clean seed processing and purity. Often more stringent than Oregon Blue Tag standards, the LESCO seed production protocol helps ensure the creeping bentgrass delivered produces excellent density, a fine leaf texture, and a medium dark green color.  
Contact a LESCO representative to order LESCO S1 Creeping Bentgrass Seed or to learn more.