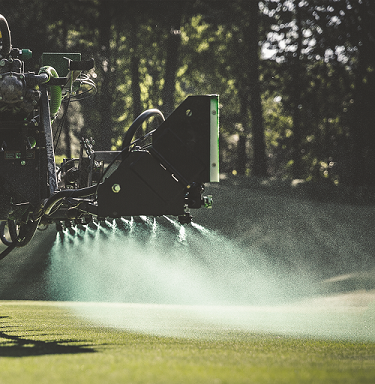 Superintendents are laser focused on growing a healthy, green turf that is then perfectly manicured to championship specifications. The name of the game is to get the right amount of nutrients to the plant at the right time. When controlled release fertilizers came to market, superintendents happily adopted and changed maintenance routines. Once again, SiteOne is revolutionizing fertilizer programs—this time with LESCO NOS and NOS Plus.
NOS and NOS Plus are a new classification of enhanced efficiency fertilizers and the industry's first fully incorporated DCD stabilized nitrogen. This slow-release, infused stabilized nitrogen acts as both nitrogen and volatilization inhibitors. The inhibitors are built into the granule as opposed to being coated allowing more nitrification to reach the plant. Another benefit is that it steadily releases over a longer period of time, meaning crews can work on other course needs.
Ross Miller, Golf Course Superintendent at Country Club of Detroit, entrusts NOS to his fertility management program. Miller tailors his program to include a blend of fertilizers that are applied on a weekly or bi-weekly basis. "NOS is a key component in that process," said Miller. "We are able to efficiently and financially effectively apply a high-quality product, that delivers long lasting results and keeps the growth at an even steady pace instead of peaks and valleys in terms of the plants health and with member's satisfaction in terms of players ability," said Miller.  
By reducing nitrogen loss for up to 72 days, NOS delivers up to a 60% increase in nitrogen uptake by the turf. The ability to blend NOS is an achievement for LESCO. At Golf Course Industry Show, Brian Rowan, Vice President of Category Management at SiteOne, explained that NOS can be applied as a granular product or it can be tank mixed. "NOS can go into a slurry that can be applied through liquid application," said Rowan. "That's where this product really shines compared to other products on the market. This product goes into solution better than any product that's out there."
The second standout product is LESCO NOS Plus. It is the industry's first dual mode of action release technologies. The product starts with the NOS particle and then has an advanced polymer coating. As the coating wears down over time, stabilized nitrogen is released over time. The fully infused stabilized urea reduces nitrogen loss once nutrients are released. Compared to fertilizer blends with standard urea, un-incorporated stabilized nitrogen or simply poly-coated urea, NOS Plus consistently delivers stabilized nitrogen throughout the duration of the application—over 70 days. 
NOS is also making an impact at Evansville Golf Club in Indiana. Golf Course Superintendent, Jeff Sexton, introduced the product following the 2019 Golf Industry Show. He had been struggling to find an economical nitrogen source for the Zoysia grass on the club's fairways. When Sexton learned of NOS, he worried about burn and phytotoxicity, but decided to give the product a try. The results have been positive and now, NOS is also working on the club's Bentgrass putting greens. "After a big, hot, humid rain event, I don't get a big surge of growth. The color's excellent. That's what I've enjoyed it the most," said Sexton. "I remember making a spray application on my fairways during a 95-degree day—I never had an issue with burn."  See Miller and Sexton's full interviews below. 
Both products give superintendents the power to dial in the nitrogen to fit their unique application program. Rowan explained that if a person wants to make applications every 7 or 14 days, LESCO has products for that. If they prefer to do fewer applications, say on a 45-90-day basis, the individual can with NOS Plus. "These products can be blended together. A program can include a base layer with a high nitrogen, slow release content in a product like NOS in the spring, and then supplement with soluble feedings of NOS throughout the season."
Aside from the superior product, both superintendents recommend NOS for its efficiency. 
"It is efficient in the flexibility of maintaining lower amounts of nitrogen to maintain premium championship caliber daily playing conditions in terms of with less product at a lower budgetary impact," said Miller.
Sexton said, "The way it breaks down, the length it lasts, the initial boost that the turf gets from the product—I've named it nitrogen on steroids. The turf plant is going to benefit substantially from it, but I think budgets will as well. We all live with flat budgets – they're not going up or going down. And we're always trying to do it for less money. And that's what I appreciate, and I think my members appreciate that it's cost-efficient."
Call your SiteOne representative and ask them for more information about LESCO NOS and NOS Plus.